Marketing trends move pretty quick, from personalization to visualization, and Cerberus Agency works hard to stay informed of emerging trends. Creating branding worth loving for our clients takes knowledge, discipline, and dedication. Every professional advantage we can help our clients gain over their competition is important. That's why we sweat the details.
Recently, Cerberus Agency recieved another five-star review on Clutch, a national B2B ratings and reviews platform that bases its agency rankings on comprehensive feedback left by actual clients regarding their real-world, working campaigns. Thanks to our clients and the resutls we have helped them to attain, Cerberus Agency enjoys a perfect score on Clutch. We have a perfect five-star rating from our clients for work quality, schedule, cost, and their willingness to refer Cerberus Agency.
One such client is Big Fat Belly Good Cajun Seasoning, a local spice company that was is drastic need of a rebrand. Not only did Cerberus Agency rename the product, we helped to adjust the recipe, based on our primary market research. From there, our creative team develped the company's brand mark, print and outdoor advertising campaigns, fully-optimized e-commerce website, vehicle graphics, sales kits, and original packaging designs.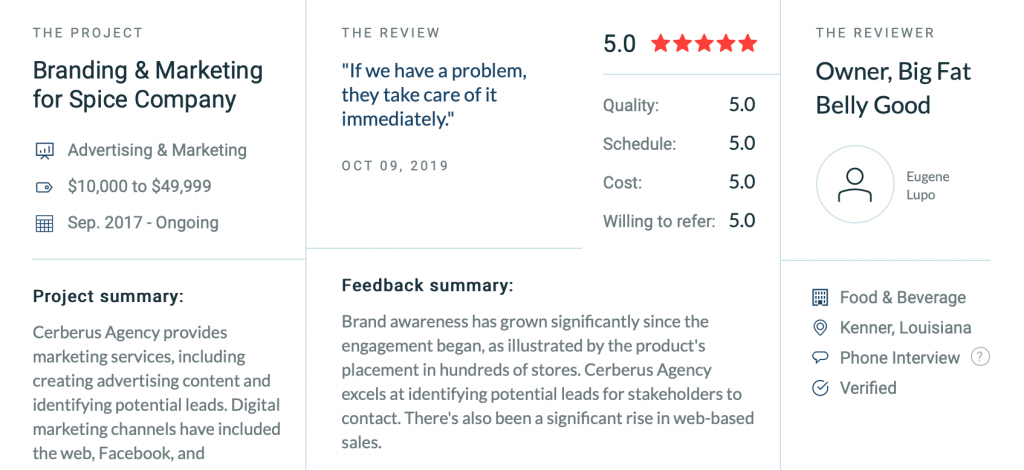 Our efforts on behalf of Lupo's Spice Company and the development of the Big Fat Belly Good line of Cajun Seasonings led to an impressive increase in web sales and retail engagements over the first 18 months of the relationship. The agency's brand development projects proved valuable in helping to get Big Fat Belly Good on the shelves in some major retailers across the South. The growth continues to this day, with no end in sight.
"Results are worth a thousand words. If you look at our website page, you can see how many stores we put in the last year (well over a hundred stores in the first 8 months)." –Owner, Lupo's Spice Company
Another client for whom we have been able to develop branding worth loving is Pearl's Seafood Market and Restaurant. Cerberus Agency helped the fledgling company develop a completely original brand mark, environmental graphics, menu design, and a full-optimized, dynamic website and social media presence. Again, earning a perfect Clutch rating of 5.0 while helping Pearl's thrive in the hyper-competitive market of Slidell seafood.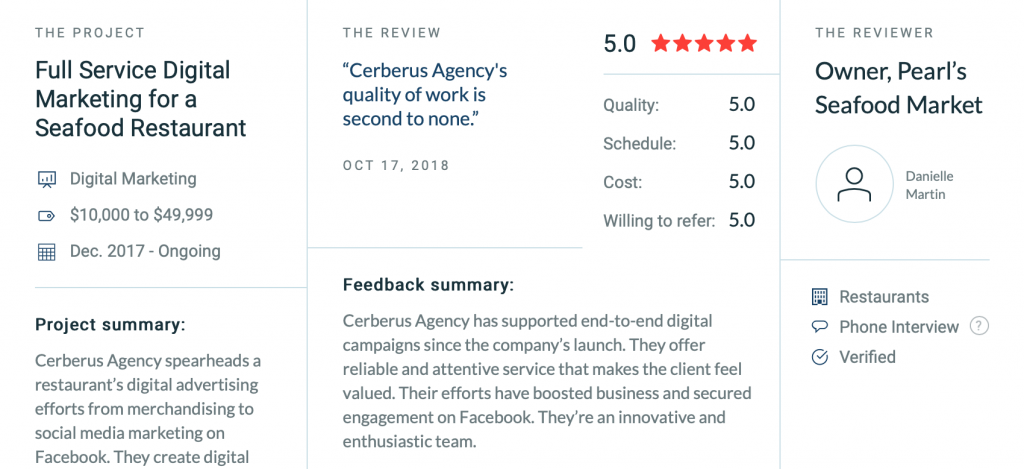 Pearl's gained Facebook followers and an increased business exponentially. Additionally, the restaurant drastically increased its Yelp and Google profile results. 
"Even though I felt like we're just a small seafood restaurant, they corrected me and made me feel important. They shoot for the stars and are really enthusiastic about working with me." –Owner, Pearl's Seafood Market and Restaurant
In addition to all the stellar client reviews from Clutch, we're also featured on Clutch's sister site, The Manifest as well as a third site, Visual Objects. The Manifest named Cerberus Agency as a top branding agency in New Orleans. This recognition would not be possible without our clients and their willingness to put their trust in our experienced, talented team. The Cerberus Agency profile and portfolio of featured work on Visual Objects can be found here.
At Cerberus Agency, we are thankful to all of our partners who have entrusted us with their business needs. We strive to be focused and disciplined while providing the highest level of service possible. After all, our client's success is our success.
Check out our Clutch profile to learn more about us or get in touch with us directly.